Twin municipality Windberg - Abos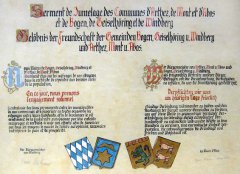 In August, 1982, the local partnership was founded by the former mayor of the municipality Windberg, Franz Kleikamp, and the mayor of the French municipality Abos, Jean-Marie Cazalere.

The twin municipality Abos with at the moment 491 inhabitants lies in the region of Pyrenees-Atlantiques (the South of France; the next bigger town is Pau), about 1800 km away from Windberg.

The partnership is alive by annual visits respectively return visits.
"This local connection is the best municipality/town partnership in the whole administrative district Straubing-Bogen",the former head of the administration Ingo Weiß (administrative district Straubing-Bogen) said.