Footpaths and cycling tracks
50 km of marked paths invite to walks and target walks all around the monastic village: You can stop for a bite to eat in the places Irensfelden and Meidendorf, you can walk through woods and over meadows, along courses of stream.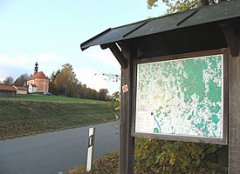 Who likes to explore the surroundings by bike, is also in the right place in the medieval monastic village Windberg. Three signposted cycle tracks of the "Holiday country Straubing Bogen" with different levels of difficulty guide through the closer surroundings or directly through the village and the municipal area.